1Do I have to be home during my lawn care treatment(s)?
No, as long as there's no problem with access to the backyard, we'll just go ahead and do the application as scheduled.
2I had an application done today; can I cut or water my lawn?
As a general rule you should wait for at least 24 hours before mowing your lawn. Watering can be done right away and is not harmful unless extremely excessive.
3What is de-thatching?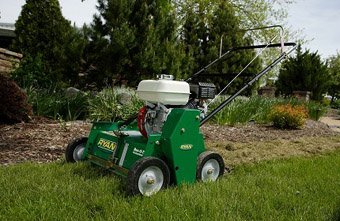 Thatch is a layer of partially decomposed plant material that build up on the soil surface. This layer of thatch decreases the turf vigor by restricting the movement of air , water and other nutrients into the soil. Excessive thatch also restricts root development and provides a suitable environment for insects and disease pests.
4What is Aeration?
Aeration is the process to either puncture the soil with spikes (spike aeration) or remove approximately 1" x 2" cores of soil from the ground (core aeration) by using mechanical equipment to allow water, oxygen, fertilizers, and other nutrients to penetrate the soil and better reach the roots of your grass. Aeration may be overlooked when trying to restore a lawn but it improves drainage and reduces puddles formation.
5What's Moss?
Mosses are small flowerless plants that typically grow in dense green clumps or mats, often in damp or shady locations. The individual plants are usually composed of simple, one-cell thick leaves, attached to a stem that may be branched or un-branched and has only a limited role in conducting water and nutrients.